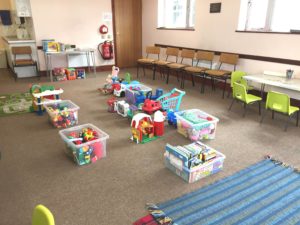 Regular events:
Little Stars Toddler Group – Monday mornings during term time 9.30 – 11.30 am (In 2019 every Monday 9th Sept. to 16th Dec.) For details call 01275 849553. samason15@aol.com
Monthly Service of Holy Communion 10.00 to 10.30 am on the second Tuesday of the month (except in August).
Coffee for all – coffee or tea and a chat 10.30 am- 12.00 on the second and fourth Tuesdays of the month (except in August).
Baycon Butty Club 10.00 to 11.30 am on the first Thursday of the month. A chance for men to drop in for bacon butties, coffee and a chat.
Wednesday Focus 8.00 pm on Wednesdays – a fortnightly meeting running from September to April usually with a speaker, for programme details click here.
Bible Study and Discussion Group. Usually once per month (but weekly in Lent) on a Monday or Tuesday evening – at home locations.
Other Events
There are extra Services in Holy Week, at Easter and at Christmas. Sunday afternoon Messy Church – for young families, take place several times a year. A Spring Sale (with plants) and an Autumn Sale raise money for a charity we are supporting. Details can be found in our Monthly Magazine -see below.