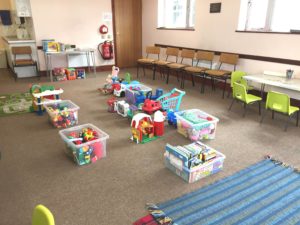 Regular events:
Little Stars Toddler Group – Monday mornings during term time 9.30 – 11.30 am (In term time) For details call 01275 849553. samason15@aol.com
All mid week Services and Meetings have been closed in view of the Coronavirus precautions. For Sunday morning Worship and other events online see the Hello page. Please feel free to contact us through the 'Contact' page.
Monthly Service of Holy Communion 10.00 to 10.30 am on the second Tuesday of the month (except in August).
Coffee for all – coffee or tea and a chat 10.30 am- 12.00 on the second and fourth Tuesdays of the month (except in August).
Baycon Butty Club 10.00 to 11.30 am on the first Thursday of the month. A chance for men to drop in for bacon butties, coffee and a chat.
Wednesday Focus 8.00 pm on Wednesdays – a fortnightly meeting running from September to April usually with a speaker, for programme details click here.
Bible Study and Discussion Group. Usually once per month (but weekly in Lent) on a Monday or Tuesday evening – at home locations.
Other Events
There are extra Services in Holy Week, at Easter and at Christmas. Sunday afternoon Messy Church – for young families, take place several times a year. A Spring Sale (with plants) and an Autumn Sale raise money for a charity we are supporting. Details can be found in our Monthly Magazine -see below.